Local group pushes single-payer healthcare in NY
http://www.fltimes.com/news/local-group-pushes-single-payer-healthcare-in-ny/article_cd99ea33-4d28-5e6d-ba88-814677ddea42.html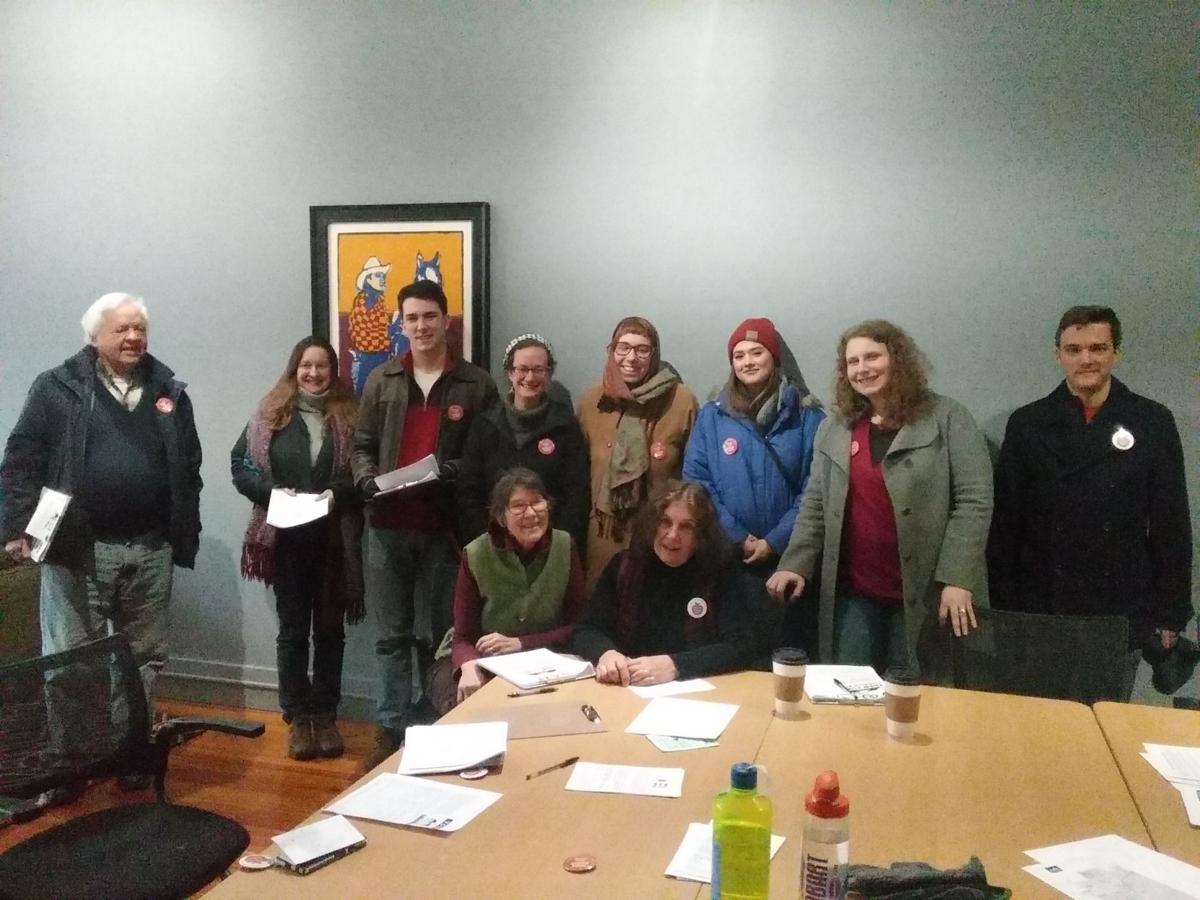 GENEVA — Those supporting an effort to get universal health care in New York — including members of a fledgling organization in Geneva — hope to convince state legislators of the need through the stories of their constituents.
Erika Wischmann is the director of a Geneva group canvassing neighborhoods to find people who want to talk about anything from high deductibles and co-pays to delaying treatment because of costs.
The goal is to gather information with these surveys to help lobby lawmakers to support the New York Health Act, which would provide comprehensive, universal health coverage to all state residents, and which would replace private insurance coverage.
Coverage would be funded through a graduated tax on payroll and non-payroll taxable income, based on ability to pay. For 98 percent of New Yorkers, say supporters, it would be much less than what they now spend on healthcare.
"It just makes sense to get the insurance company profits out of it," said Wischmann, who lives in Geneva with her husband and four children. "This is how most capitalist countries run their healthcare. … Anyone could have their life turned upside-down by an accident or illness."
She said the local movement is an outgrowth of the Geneva Women's Assembly, a social-justice organization that has been involved in a number of efforts, including advocating for neighbors in the Geneva Foundry contamination zone.
The group had a meeting in December, where they later talked to people willing to share their healthcare stories. Another meeting and canvass is set for Sunday, Jan. 7, from noon to 5 p.m. at 222 Castle, the former site of the Stomping Grounds and now home to Hobart and William Smith's Bozzuto Center for Entrepreneurship.
Wischmann and the group will give an overview of the New York Health Act, discuss their first outreach event and then head out to hear from Geneva residents about the current health care system.
Geneva businessman Greg Lavin is among the leaders of the effort.
"It is striking how many ordinary Genevans have suffered from the high costs of medical care — unnecessary costs," he said. "I've reached the point where I believe a New York state-run medical system is possible — even likely, given the coming travail from the Republicans' tax scam eviscerating the Affordable Care Act."
Wischmann said she has been working with Ursula Rozum, a political activist from Syracuse, in the outreach effort.
Looking for votes
Rozum said the New York Healthcare Act has been passed in the Democratically controlled Assembly three straight years, starting in 2015. However, the bill has never reached the Senate floor, where Republicans — with help from a number of small group of breakaway Democrats called the Independent Democratic Conference — have controlled legislation.
But, she said, universal healthcare advocates are edging closer to having sufficient support to get the bill passed.
Senate Democrats are expected to have a numerical majority in 2017, holding 32 out of the Senate's 63 seats. Rozum said 29 Democrats support the bill so far, and if Gov. Andrew Cuomo appoints replacements to seats being vacated by state senators elected to new positions, that would conceivably give them 31 votes, leaving them one vote short.
Democrat Sen. Simcha Felder of Borough Park, Brooklyn, who caucuses with the Republicans but is not a member of the Independent Democratic Conference, does not currently support the bill, she said.
Rozum said they will continue to lobby Felder to support the bill, but that they are also working hard to find GOP votes.
The goal is a coordinated campaign to put constituent pressure on Senate Republicans.
So far, none have publicly expressed support for the bill, which has received criticism in a number of less progressive circles, mostly because they believe single-payer health insurance costs will be much higher than supporters claim.
Republican State Sen. Pam Helming, said Wischmann, has been "more open" to the idea.
However, in her 2016 Senate campaign, Helming stated in a press release that she was opposed to the Assembly bill, which she said "would place all New Yorker citizens on Medicaid."
Helming's spokesperson was not available for comment Tuesday.
Bill criticism
Bill Hammond, writing for the Empire Center for Public Policy, a conservative think tank, said the $45 billion cost-savings estimate of the Assembly bill is based on "tendentious assumptions, debatable methods and a dose of wishful thinking."
He said that a single-payer system "would impose government price control on all health-care services, eliminate any vestige of market competition in a major sector of the state economy."
Further, he argued, it "would also channel billions more dollars through New York's notoriously dysfunctional state capital, multiplying opportunities for favoritism and corruption."
He also suggested New York would risk "becoming a magnet for people from other states and countries in need of costly care" and further increase the state's nation-leading tax burden.
Democratic Assembly members said the legislation's funding would be based on a shared 80/20 employer/employee contribution system that would be combined with federal funds currently received for Medicare, Medicaid and Child Health Plus. This would create the New York Health Trust Fund. The state would also seek federal waivers to allow New York to fold those programs into New York Health. The local share of Medicaid funding would be ended, offering major property tax relief for New Yorkers, said Democrats.
Is the governor in favor?
As for Gov. Cuomo's support, that is in question right now. Rozum noted that the Democratic governor supported former Democratic presidential candidate Bernie Sanders' health-care-for-all campaign promise, so she expects him to at least be receptive.
"He responds to political pressure as well," she said.
Similar bills are in other state houses, and Rozum noted that they hope New York can set the pace. She noted that in Canada, national healthcare started with legislation passed in a single province, Saskatchewan, in the late 1940s before it became a national program.
"We're hoping for a domino effect," she said.
Comments