Fighting a shortage of medical professionals upstate
http://www.ithaca.com/news/fighting-a-shortage-of-medical-professionals-upstate/article_4e5c6638-302a-11e7-aa57-bb11b868b031.html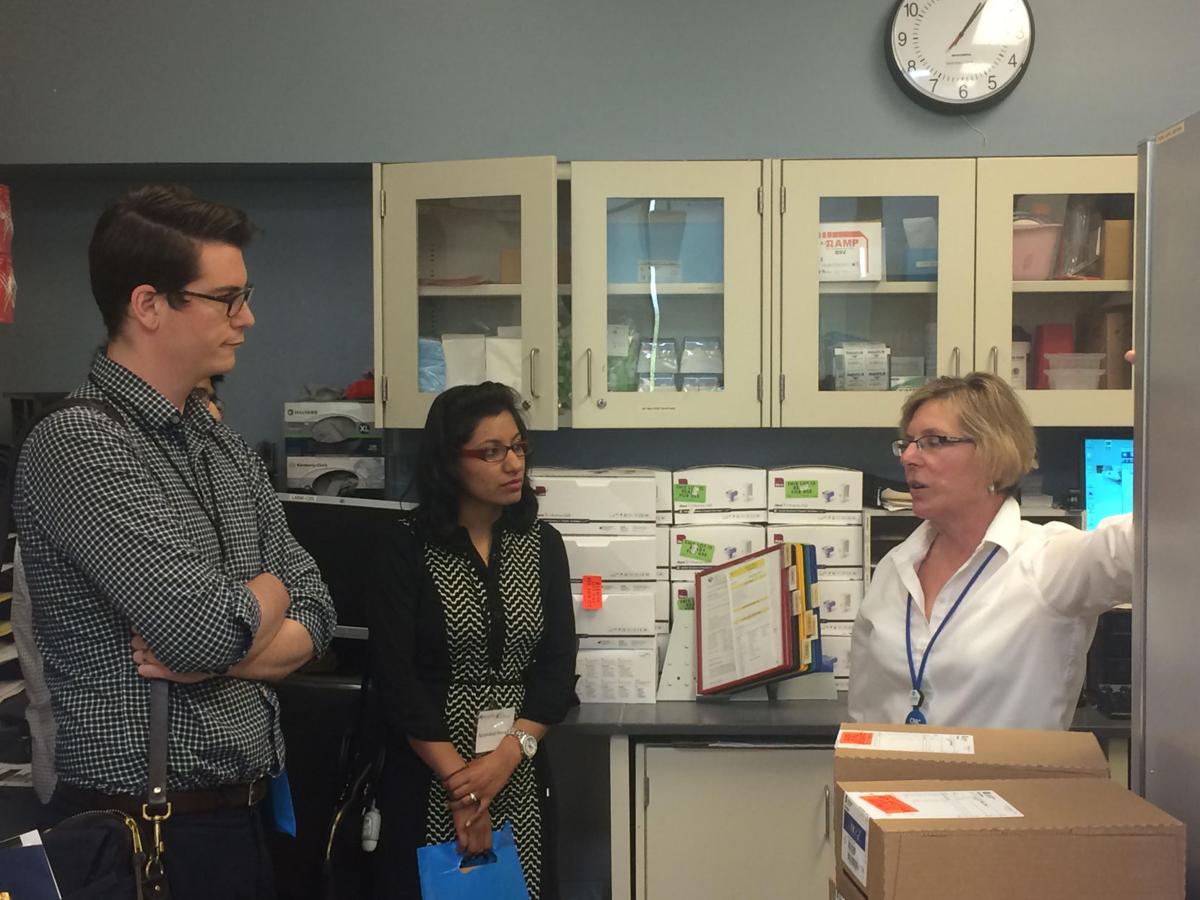 (Photo: Matt Butler)
It's a well-known issue at rural hospitals across the nation: oftentimes, it's just simply hard to fill all the positions needed to make a hospital hum, especially far from lucrative, well-paying jobs in big city hospitals.
Upstate New York, it seems, is no exception.
In order to drum up interest from future medical professionals to upstate New York, Iroquois Healthcare Alliance (IHA) has organized tours of medical facilities in the area, this year including Cayuga Medical Center among the several upstate, rural hospitals the group visits in its annual rounds.
For various reasons, the medical profession – statistically speaking – seems to have had something of an aversion to the already-beleaguered hospitals serving the rural counties of Upstate New York: According to a 2015 report from the Healthcare Association of New York State, many doctors tend to stay in more lucrative urban areas where they can pay off their debts from medical school (amounting to an average of $183,000 for a member of the class of 2015, according to the Association of American Medical Colleges), something more difficult to do in the lower-paying world of primary care.
"Communities in Upstate New York desperately need to recruit new physicians," Gary Fitzgerald, president of the Iroquois Healthcare Alliance said in testimony to the New York State Assembly's Ways And Means Committee in January 2016. "IHA members are struggling to recruit physicians, both primary care and specialties. Physicians of all types are needed and in short supply and, in some cases, nonexistent in some upstate communities."
According to the American Academy of Family Physicians, primary care physicians – the most in-demand profession – earn, on average, approximately $195,000 annually, compared with $284,000 for physicians in other specialties. A pay disparity exists even within New York state, as primary care physicians in the rural upstate communities earn about $20,000 to $30,000 less on average than in New York City or even Albany.
This, in part, has contributed to a sector where a vast majority of rural hospitals – which rely heavily on primary care physicians in general – have difficulty recruiting talent. According to that same HANYS study, 81 percent of hospitals reported PCPs are very difficult to recruit, while 84 percent indicated that recruitment of PCPs is "one of their critical strategies for improving access to care" despite record enrollments in medical schools nationwide.
Amelia Trigg, marketing manager for IHA, said the tours have been running since 2013, and that it was their first time coming to CMC. Trigg said the alliance's goal with the tours is to revitalize the recruitment process for upstate NY hospitals. IHA is connected to students through the New York chapter of the American College of Physicians, and targets potential PCPs it thinks could have interest in spending at least part of their careers in rural New York. IHA had been previously funding the tours by themselves, but as evidence grew their recruitment services were necessary, they have been allocated $100,000 in each of the last two state budgets, including the one recently passed by the State Assembly for 2017-2018.
Recruitment issues are universal, but the percentage of hospitals recruiting PCPs are significantly higher upstate: where about 13 percent of downstate hospitals have a need for PCPs, 29 percent of upstate hospitals (non-rural) and 26 percent of rural hospitals in general are needing. This matters: according to a review by the Primary Care Development Corporation, nearly 1,841,000 people – 9.5 percent of the state's population – were underserved in regards to primary care in 2012. The tour included a look at CMC's patient care infrastructure and medical testing labs, taking the group through most of the hospital's pristine hallways.
William Carroll, a third year internal medicine resident from McGill University in Montreal who participated in the tour and is interested in a career as a PCP, said he was interested in coming to Upstate NY to take advantage of the opportunities it presents as a lifestyle location. Though he will have had some work experience New York and Long Island once he graduates, Carroll said his interest in post-graduate life there is minimal.
"The opportunity for more open space, living right near the mountains, lifestyle is a really big thing," Carroll said. "Also, having the opportunity to work in a smaller system where you don't have to deal with the big bureaucracy and all that."
After the tour, Carroll, who had never been to Ithaca before, was impressed with CMC's overall facilities, somewhat surprised at the breadth of services the hospital was able to provide for a place that wasn't in a major city.
"I was pleasantly surprised, I just thought it would be smaller," Carroll said, marvelling at CMC's considerable size. "The amount of speciality services they have was more than I thought."
He said medical students in general don't look to upstate New York, or rural locations in general, at least in part as a result of wanting the more conventional "big city life," despite the sometimes prohibitively high costs of living in New York City.
That's one of the bigger, though less tangible, challenges that rural places face: not only trying to sell a lower-paying job, albeit with lower living costs, but also selling a daily life that doesn't have quite the glamour of New York City or places like it. Carroll is sold on upstate, but the numbers show he is the exception, not the rule.
"They want to live in the city, they want to live in the urban environment with the restaurant and bars," he said. "They want the cultural stuff that they think is only there, but it's here too."
Comments