The New York Times
N.Y. / REGION
By JESSE McKINLEY MAY 24, 2017
ALBANY — The call for a breakaway faction of Democrats in the State Senate to
abandon its Republican allies and rejoin the party's fold picked up a surprising
supporter on Wednesday: Senator Simcha Felder, a Brooklyn Democrat who also
sides with the Republicans.
Mr. Felder sent a letter urging Senator Jeffrey D. Klein, the leader of the faction,
the eight-member Independent Democratic Conference, to "unconditionally and
publicly rejoin the Democrats."
The letter, dated Wednesday, was all the more striking because it came from Mr.
Felder, who, within days of being elected to the Senate as a Democrat in 2012,
declared that he would caucus with the Republicans.
It was unclear whether Mr. Felder's call for the Independent Democratic
Conference to reunite with the mainline Democrats would mean that he, too, would
consider leaving the Republican conference. But his letter articulated a frustration
with the tactics of the Independent Democratic Conference, which has grown in size
and influence in recent months.
"Who are you to decide what the legislative priorities are for loyal Democrats across
New York State?" Mr. Felder wrote, urging Mr. Klein to "unify with your Democrat
colleagues and not just highlight a handful of issues that attempt to distinguish you
from the Republican conference."
Mr. Felder's letter may further complicate the perplexing political calculus in the
Senate, which has been the scene of high drama in the last decade and simmering
tension during the tenure of Gov. Andrew M. Cuomo, who took office in 2011, the year
that Mr. Klein and the Independent Democratic Conference split from the main group
of Democrats in Albany.
Since then, the conference has helped Republicans rule, entering into a powersharing
agreement in 2012 and often garnering perks like larger offices and staffs. The
partnership has continued even though there have sometimes technically been more
Democrats in the Senate, if Mr. Felder and the conference members are counted.
With the election on Tuesday of Brian Benjamin to fill a vacant seat in Harlem,
Democrats again hold a numerical majority, 32 to 31. But the mainline Democrats
hold only 23 seats, after subtracting the eight Independent Democratic Conference
members and Mr. Felder.
On Monday, Mr. Klein's group began a campaign, Call the Roll, that asked
Democrats to sign a pledge to uphold seven "key progressive issues," including ones
that have not been embraced by their Republican colleagues, like the expansion of
abortion rights, public campaign finance and single-payer health care. The campaign
was christened with a three-and-a-half-minute promotional video and a letter to all
Democrats, including Mr. Felder, who Mr. Klein has previously said was responsible
for tipping the balance of power in the Senate.
But Mr. Felder apparently did not appreciate the letter.
"I am in receipt of your unity pledge letter," he wrote, adding, "And if it was not
such a serious matter, I might find the letter entertaining, but I do not believe in
misleading people."
Shortly after Mr. Felder's letter became public, the Independent Democratic
Conference shot back, suggesting Mr. Felder — who sits in conference with
Republicans — had shown his true political self.
"It's telling that Simcha Felder didn't sign the pledge," said Candice Giove, a
spokeswoman for the conference. "We now see where he stands on these seven crucial
issues."
Mr. Felder did not return a call seeking comment, but his office said that "his
letter speaks for itself."
Scott Reif, a spokesman for the Senate Republicans, said that "Senator Felder is a
valued and trusted member of our conference," adding that "working together, we
have been able to accomplish many great things."
Criticism of the Independent Democratic Conference intensified after the election
of President Trump and the group's collaboration with John J. Flanagan, the Long
Island Republican who leads the Senate. Such criticisms have been given a new thrust
this month as a series of articles in The New York Times revealed that three members
of the Independent Democratic Conference received tens of thousands of dollars in
stipends earmarked for other lawmakers, after being falsely identified as committee
chairmen in payroll documents sent by Senate staff members. Five Republicans also
received the questionable stipends.
Andrea Stewart-Cousins, the leader of the Senate Democratic Conference, also
wrote to Mr. Klein and his members on Wednesday, asking them to unify "to pass
progressive legislation to resist Donald Trump and serve as a beacon to a weary
nation." She asked the Independent Democratic Conference to pledge to reunite by
June 16.
The calls for unity were echoed by national Democrats. Representative Keith
Ellison of Minnesota, deputy chairman of the Democratic National Committee, said
Mr. Benjamin's election in Harlem meant Democrats must unite to "bring together a
Democratic majority in the New York State Senate."
Mr. Felder's letter concluded by suggesting he might unify with fellow
Democrats, too, if the conference did. Mr. Felder has previously said he would side
with whatever party would best serve his district, which includes a large population of
Orthodox Jews.
"I would welcome unity if it effectuates my priority to have the greatest positive
impact on my constituents and all New Yorkers," he said.
A version of this article appears in print on May 25, 2017, on Page A25 of the New York edition with the
headline: State Senator Urges Other Rogue Democrats to Return to the Party Fold.
© 2017 The New York Times Company
Clergy for Universal Health Care
http://www.twcnews.com/nys/capital-region/capital-tonight-interviews/2017/05/24/faith-leaders-052417.html
The future of the Affordable Care Act remains uncertain as lawmakers in Washington debate replacement plans. And that has faith leaders looking to the state to take action and create single-payer systems. The Assembly passed the New York Health Act last week, and Tuesday clergy rallied at the state Capitol to encourage the Senate to follow suit. Joining us to talk more about that are Carol Ann Lemon from the New York State Nurses Association, Reverend Emily McNeill from the Labor Religion Coalition, and Reverend Andrea Abbott of the Unitarian Universalist Society of Central Square.
Supporters Push Single-Payer Health Care In NY
http://wamc.org/post/supporters-push-single-payer-health-care-ny
Faith leaders from around New York came to the Capitol Tuesday to gain support in the state senate to adopt a statewide single payer health care system. It would be an alternative to the national Affordable Care Act, also known as Obamacare, which Republicans in Congress and President Trump have been trying to dismantle.
A New York-based single payer health care program has been approved numerous times in the State Assembly. Assemblyman Phil Steck, who represents portions of Albany and Schenectady, and is one of the bill's most staunch supporters, says it would simply build on the existing Medicare system for Americans 65 and older.
"This bill just extends that system to the entire population," Steck said, when the bill was passed in the Assembly on May 16.
The idea seems straightforward, but supporters say they know there would be challenges to implementing a statewide single payer plan. Reverend Emily McNeill, director of the Labor Religion Coalition of New York, says it is achievable, though.
"It's totally doable," said McNeill. "If you look at the size of New York state, we're very similar to the size of many countries that have universal health care."
She admits it's a "big change," but says the system of how health care is provided in the state would not change, only the way that doctors bill for services. Health care providers would send bills to the state's health care system, instead of numerous insurance companies.
Reverend McNeill and a couple of dozen supporters demonstrated outside the Senate chambers, where they say they now have 30 senators signed on as cosponsors. Just two more are needed to reach a majority in the chamber. They presented a letter signed by 270 faith leaders.
"We minister to people when they are sick and when they are dying," McNeill said. "And so we know very deeply the consequences of taking away health care."
She says one and a half million New Yorkers currently are without health insurance. If Obamacare is repealed, under the plan approved by the Republican-led House of Representatives, an estimated two point seven million more would lose their health care. She says there could be an estimated 4,000 unnecessary deaths in New York as a result.
The push came on a day when the results of a special election were all but certain to elect a Democrat to a vacant Senate seat, which would likely increase the number of sponsors on the single payer bill to 31. Backers would need to convince the one remaining Democrat in the Senate who has not backed the measure, or a Republican senator, to sign on.
The Republicans are ultimately in charge of the Senate chamber, and without any of their members supporting the measure, it's unlikely that the bill would come to the floor for a vote anytime soon.
Critics say single payer health care in New York would be too costly and burdensome to taxpayers.
Democrats in the New York Assembly are relaunching a push for a statewide single-payer health-care program in hopes that the national debate over health care will give their legislation new momentum.
The "Medicare-for-all" bill—designed to provide health insurance to all state residents—passed the predominantly Democratic Assembly Tuesday afternoon following several hours of partisan back-and-forth on the chamber floor.
The bill has passed the Assembly twice before, but then stalled in the more conservative and currently Republican-controlled state Senate, as it is expected to again.
But sponsors say it has more support this year amid a move in Congress to repeal former President Barack Obama's signature health-insurance law. A replacement for "Obamacare" is being hashed out in the U.S. Senate.
Vermont Sen. Bernie Sanders proposed a single-payer system on a national scale during his 2016 bid for the Democratic presidential nomination, giving the idea wider attention.
"We are now seeing a surge of support in New York for a Medicare-for-all system, and that's partly because the debate now going on in Washington makes it clear our problems with health care are not going to get solved, but will be made worse, by Washington," said Assemblyman Richard Gottfried, a Manhattan Democrat who has sponsored a single-payer bill for two decades.
The program would require some $90 billion annually in new tax revenue, analysts said. Mr. Gottfried said it would be partly funded through a progressive increase in state payroll taxes.
But Mr. Gottfried maintains even with the tax increase, New Yorkers would save money by getting rid of the premiums, copayments and administrative costs associated with private insurers.
The legislation could be a blow to health-insurance companies, and some legislators expressed concerns about the potential for job losses as a result.
Republicans in the Assembly, a minority of the chamber, pushed back on the bill. "There's a noble endgame trying to be achieved here, and if it could work I would support it," said Assemblyman Andrew Raia, a Long Island Republican. "But when you're dealing with progressively graduated taxes, the rich have the ability to leave. What happens when all the sudden that tax-base you're looking for is now in New Jersey?"
A single-payer plan to provide universal health-care coverage has long been an elusive goal for progressive Democrats. Conservatives and some economists have expressed concerns about restricting market choices and burdening taxpayers with new costs.
A single-payer plan is being debated in California. For years such a measure was pushed in Vermont, but ultimately it failed.
New York Gov. Andrew Cuomo, a Democrat, hasn't taken a firm position on Mr. Gottfried's bill. His spokeswoman said Tuesday: "The governor has been and remains committed to ensuring access to high-quality health care for all New Yorkers and we will review the legislation in that context."
Democrats and Republicans have an even numerical split in the Senate, but nine Democrats have broken from their party's conference and empower a Republican majority coalition.
Eight of the renegade Democrats allied with Republicans have co-sponsored the single-payer bill in the Senate. But the Republican Senate Majority isn't expected to bring the bill to the floor for the vote.
Write to Mike Vilensky at mike.vilensky@dowjones.com
Katie Robbins
c: 330-618-6379
On Thu, May 18, 2017 at 8:29 AM,
<Dunleamark@aol.com>
wrote:
Why such a huge number of people not voting? My assumption would be that they were seeking to avoid going on record one way or the other.  not a good sign. Or am I missing something?

It's very exciting to see the progress we've made on building support in the public and in the state legislature for the New York Health Act. As you have heard, the bill passed 87-38 yesterday. Below is a list of the media it has generated. Let me know if you have any links that were left out.

 

Media Roundup:

 

Social Media:

The FB 

announcement

 has over 800 shares, reaching over 70,000 people. Help spread the word and keep sharing it!

 

 
http://www.ithaca.com/news/fighting-a-shortage-of-medical-professionals-upstate/article_4e5c6638-302a-11e7-aa57-bb11b868b031.html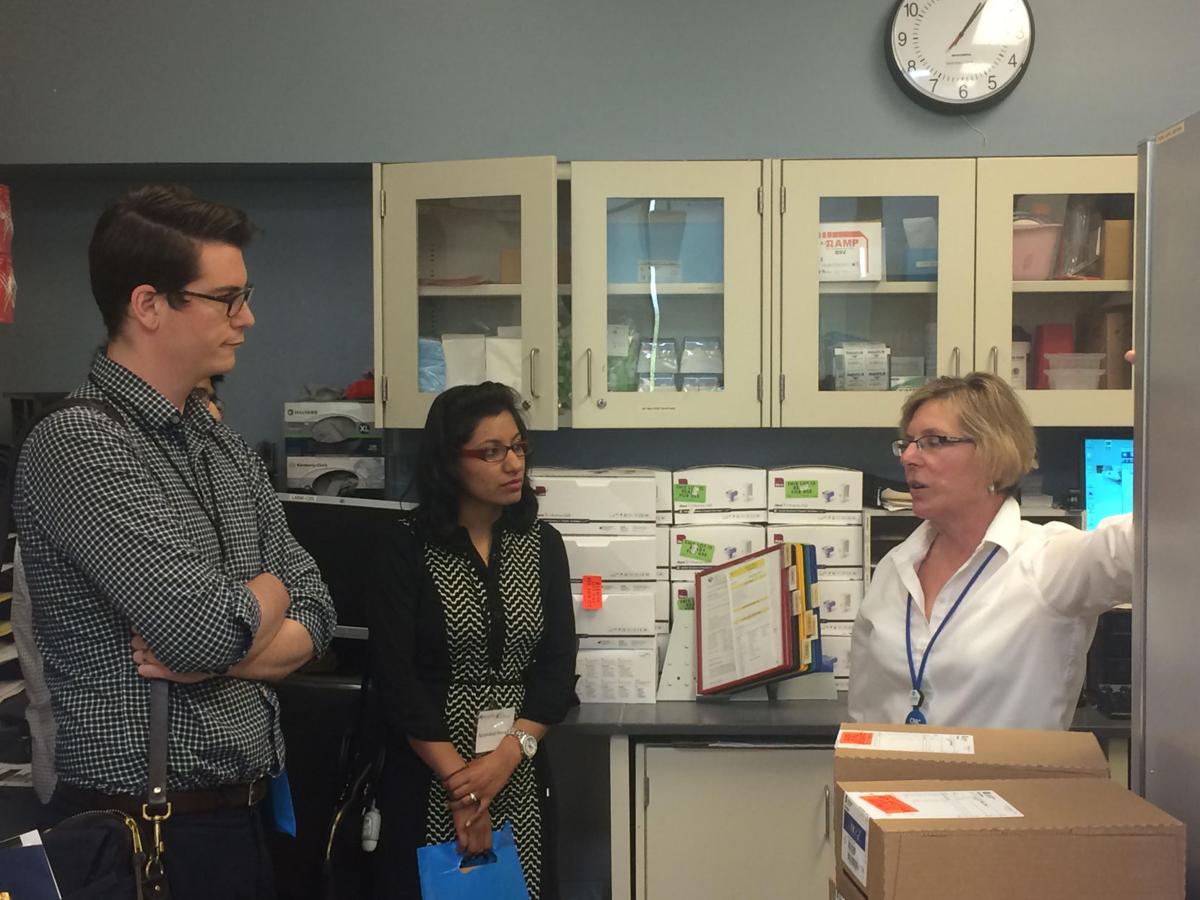 (Photo: Matt Butler)
It's a well-known issue at rural hospitals across the nation: oftentimes, it's just simply hard to fill all the positions needed to make a hospital hum, especially far from lucrative, well-paying jobs in big city hospitals.
Upstate New York, it seems, is no exception.
In order to drum up interest from future medical professionals to upstate New York, Iroquois Healthcare Alliance (IHA) has organized tours of medical facilities in the area, this year including Cayuga Medical Center among the several upstate, rural hospitals the group visits in its annual rounds.
For various reasons, the medical profession – statistically speaking – seems to have had something of an aversion to the already-beleaguered hospitals serving the rural counties of Upstate New York: According to a 2015 report from the Healthcare Association of New York State, many doctors tend to stay in more lucrative urban areas where they can pay off their debts from medical school (amounting to an average of $183,000 for a member of the class of 2015, according to the Association of American Medical Colleges), something more difficult to do in the lower-paying world of primary care.
"Communities in Upstate New York desperately need to recruit new physicians," Gary Fitzgerald, president of the Iroquois Healthcare Alliance said in testimony to the New York State Assembly's Ways And Means Committee in January 2016. "IHA members are struggling to recruit physicians, both primary care and specialties. Physicians of all types are needed and in short supply and, in some cases, nonexistent in some upstate communities."
According to the American Academy of Family Physicians, primary care physicians – the most in-demand profession – earn, on average, approximately $195,000 annually, compared with $284,000 for physicians in other specialties. A pay disparity exists even within New York state, as primary care physicians in the rural upstate communities earn about $20,000 to $30,000 less on average than in New York City or even Albany.
This, in part, has contributed to a sector where a vast majority of rural hospitals – which rely heavily on primary care physicians in general – have difficulty recruiting talent. According to that same HANYS study, 81 percent of hospitals reported PCPs are very difficult to recruit, while 84 percent indicated that recruitment of PCPs is "one of their critical strategies for improving access to care" despite record enrollments in medical schools nationwide.
Amelia Trigg, marketing manager for IHA, said the tours have been running since 2013, and that it was their first time coming to CMC. Trigg said the alliance's goal with the tours is to revitalize the recruitment process for upstate NY hospitals. IHA is connected to students through the New York chapter of the American College of Physicians, and targets potential PCPs it thinks could have interest in spending at least part of their careers in rural New York. IHA had been previously funding the tours by themselves, but as evidence grew their recruitment services were necessary, they have been allocated $100,000 in each of the last two state budgets, including the one recently passed by the State Assembly for 2017-2018.
Recruitment issues are universal, but the percentage of hospitals recruiting PCPs are significantly higher upstate: where about 13 percent of downstate hospitals have a need for PCPs, 29 percent of upstate hospitals (non-rural) and 26 percent of rural hospitals in general are needing. This matters: according to a review by the Primary Care Development Corporation, nearly 1,841,000 people – 9.5 percent of the state's population – were underserved in regards to primary care in 2012. The tour included a look at CMC's patient care infrastructure and medical testing labs, taking the group through most of the hospital's pristine hallways.
William Carroll, a third year internal medicine resident from McGill University in Montreal who participated in the tour and is interested in a career as a PCP, said he was interested in coming to Upstate NY to take advantage of the opportunities it presents as a lifestyle location. Though he will have had some work experience New York and Long Island once he graduates, Carroll said his interest in post-graduate life there is minimal.
"The opportunity for more open space, living right near the mountains, lifestyle is a really big thing," Carroll said. "Also, having the opportunity to work in a smaller system where you don't have to deal with the big bureaucracy and all that."
After the tour, Carroll, who had never been to Ithaca before, was impressed with CMC's overall facilities, somewhat surprised at the breadth of services the hospital was able to provide for a place that wasn't in a major city.
"I was pleasantly surprised, I just thought it would be smaller," Carroll said, marvelling at CMC's considerable size. "The amount of speciality services they have was more than I thought."
He said medical students in general don't look to upstate New York, or rural locations in general, at least in part as a result of wanting the more conventional "big city life," despite the sometimes prohibitively high costs of living in New York City.
That's one of the bigger, though less tangible, challenges that rural places face: not only trying to sell a lower-paying job, albeit with lower living costs, but also selling a daily life that doesn't have quite the glamour of New York City or places like it. Carroll is sold on upstate, but the numbers show he is the exception, not the rule.
"They want to live in the city, they want to live in the urban environment with the restaurant and bars," he said. "They want the cultural stuff that they think is only there, but it's here too."
http://www.pnhp.org/news/2012/march/the-conservative-case-for-single-payer-health-reform
By Dr. Joe Jarvis for Utah Healthcare Initiative Blog –
Recently, Charles Krauthammer, conservative Washington Post commentator and Fox News analyst, who is also a physician, spoke to an audience of mostly physicians in San Antonio (find coverage of the speech in the San Antonio press here). Excerpts:
If President Barack Obama's health care reform act is fully implemented over the next two years, it will evolve into a Canadian-style single-payer system that will forever change the social contract between Americans and their government, a nationally syndicated columnist and physician predicts.
"It will change the country. If it is not repealed, we will be a different country when 'Obamacare' is fully implemented," Krauthammer said in an interview after speaking Thursday to a receptive crowd of mostly physicians and other health care professionals at a breakfast sponsored by the San Antonio Medical Foundation.
The Affordable Care Act, which passed in March 2010 without Republican support, was touted as a way to extend coverage to most uninsured Americans, and to offer it at an affordable price to those who have trouble buying it now, such as the poor, the self-employed, and those with pre-existing medical conditions.
The centerpiece of the plan is a requirement for everyone without health coverage to buy a policy or pay a fine.
Krauthammer predicted that the U.S. Supreme Court, which is set to deliberate the constitutionality of the Affordable Care Act this
month, will overturn the that provision of the law.
"The individual mandate (to buy health insurance) is a fairly radical step in the final expansion of the power of the federal government,
which would then leave it in a position where it would be very hard to find any constitutional grounds — if you don't overturn this —
for ever denying the federal government the power to do anything it wants," Krauthammer said.
"We're spending perhaps $1 out of every $4 on unnecessary treatments, referrals and tests that everyone knows are unnecessary," he
said. "And Obamacare did nothing to reform it."
In his speech, Krauthammer predicted the complexity of the law eventually would doom it to failure, which would lead to a singlepayer
system within a decade.
"This is a new reform that when it kicks in within a couple of years will make the practice of medicine a nightmare," he said. "If it's not
repealed, I guarantee you that within a decade we will have a single-payer system. And if I had to choose between Obamacare and a
Canadian or British system, I'd choose the single-payer system. At least it would be rational."
My comment:
It's clear from his comments that Dr. Krauthammer wishes that Obama-care would be repealed and that the nation would not go down the pathway
towards single payer health system reform. However, he directly states that given a choice between Obama-care and single payer, he would choose
single payer, because 'at least it would be rational'. What does a conservative like Krauthammer see in single payer health system reform that is
rational? I feel qualified to answer that question, since I am both a conservative (I received the Republican nomination twice for legislative races in
Salt Lake City) and a long time support of single payer health system reform.
First, and foremost from a conservative viewpoint, single payer health system reform is fiscally responsible. Unlike the 'Affordable' Care Act, a
single payer approach to health system financing is financially sustainable. Nearly all of the unfunded future debt due to entitlements currently
stacked up against the federal government is medical debt. The last count for that debt which I have seen is $60 trillion, more than the present day
value of all assets owned in the US. Single payer health system reform can reduce the cost of health care by $1 trillion/year, nearly all of which can
go to relieving the tax burden. By the time today's kindergartners are Medicare eligible, a single payer style payment mechanism for American
health care would have eliminated the federal deficit.
Second, and integral to cost control, single payer health system reform has the capability to eliminate the poor quality care due to unnecessary
treatments. Eliminating the multiple, confusing payment schemes for health services also eliminates the perverse incentives inherent in those
schemes. The health insurance business model induces provider behaviors which are contrary to good patient care. In contrast, single payer health
financing focuses providers on best practices for patient care. It is, as Krauthammer notes, the most rational method of paying for health care.
Third, single payer health system reform can (and should) be implemented at the state level, preserving the appropriate balance between national
and local governing.
I disagree with Dr. Krauthammer. Obama-care does not make single payer health system reform inevitable. If we Americans want a health system
that is optimal quality and therefore lowest cost, we will have to do the heavy political lifting necessary to intentionally rid our health system of
corporate welfare, clearing the decks for a rational payment mechanism which cherishes patient care above profits. It's the most conservative way
forward for our health care system.
Comments
13 Responses to "The Conservative Case for Single Payer Health Reform"
1. Cheryl Liniman says:
March 22, 2012 at 5:03 pm
Quite frankly, President Obama's health care law does NOT go far enough. The public option should have been included. "Medicare for all"
would have been ideal. A SINGLE-PAYER system is the ONLY way health care can work in America, otherwise the insurance and drug
companies will rule over who gets health care and who does not. And health insurance for profit does NOT benefit the patients.
2. Joseph De Miranda says:
March 22, 2012 at 5:22 pm
Health Care in America is very expensive, and there are a number of factors contributing for that, for example, when a person without
insurance receives care in a hospital, that bill is paid by insurances through inflated prices. But the main reason for it to be so expensive and
inaccessible to a large and growing part of the lower income Americans, is the fact that it isn't considered a common and necessary welfare.
This is a wrong outlook, certainly health care is as important as education, police, firefighters and the military are, and it works that they are
all given equally to all citizens through our income taxes, and yet, if you are wealth enough, you cans send your children to private school,
hire a body guard, and install a good fire system. So as a principle, health care should be available (through income taxes ) for every citizen,
anything else goes against the Constitution …"every citizen has the right to pursue happiness"… And I ask, who can pursue happiness in
sickness? Who can pursue happiness going broke over medical bills? It is a shame that educated people can't see the burden and pain his
fellow citizens are facing for not being able to afford health care, and do not address this matter responsibly and humanly, resolving it once
and for all. They can't even see that resolving this problem would significantly lower their health insurance costs. (Hospitals overcharging
Insurance Companies)
Theresa Welsh says:
March 22, 2012 at 9:29 pm
I am tired of reading that, as Mr DeMaranda alleges, the bills of uninsured hospital patients are paid by other peoples' insurance. For
your information, when you receive hospital services (inpatient or ER), THEY SEND YOU A BILL! And you are expected to pay it.
And they will refer you to a collection agency if you don't pay it.
I will certainly agree that many uninsured people are unable to pay their hospital bill, but I am tired of this kind of assumption that
every uninsured patient does not pay anythng on their medical bills. Furthermore, uninsured people often simply do not get any care.
the idea that uninsured people run up the cost of health care for others is false. What about people with those "Cadillac Plans" who have
coverage for everything and receive lots of treatment and services they don't actually need, but get because of their fabulous insurance
coverage? Don't THEY run up the cost for everyone?
Please do not pick on the uninsured. Life is tough enough for those, like myself for many years and my daughter right now, who lack
health insurance!!!@!
3. Michael Mooney says:
March 22, 2012 at 7:38 pm
True conservatives know that a single payer system is the most cost-conservative system, while also providing a means to reduce the federal
deficit over time.
Take note: Faux conservatives speak against the single payer system. Either they are not able to do the math or they aren't real conservatives.
4. Grover Syck says:
March 22, 2012 at 10:38 pm
Obama tried to get a strong public option, but the conservatives blocked it. He wanted a single payer system, but the conservatives blocked it.
The far fight will obstruct everything Obama tries to do. They are only intersted in getting back into power, reguardless of what it may do to
the nation.
5. Stan Nuremburg says:
March 23, 2012 at 9:35 am
Dr. Krauthammer says, "We're spending perhaps $1 out of every $4 on unnecessary treatments, referrals and tests that everyone knows are
unnecessary. And Obamacare did nothing to reform it."
The Dems tried to, but Dr. K's buddies the R's called this effort "death panels" and put the kaibash on it; I call his position "blame the
victim."
6. Ron Christensen says:
March 23, 2012 at 11:28 am
Obama and the Democratic leadership (Harry Reid, Nancy Pelosi, et al) clearly stated when the health care legislation was first being
formulated: "Single Payer is off the table!" Obviously they didn't want to create waves or rock the insurance industry boat.
7. Sebastian VanVechten says:
March 23, 2012 at 3:36 pm
As a hospital-based BSN with more than a decade in healthcare, I have seen countless examples of inefficency of the "market approach"
which in practice appears to mean lobbyists writing legislation to protect a profit margin. I am pleased to see bona-fide conservatives making
the same economic argument I've put forth, and am disappointed in the "Christian" conservatives who seem content to watch hard-working
citizens lose a home to medical bills. I usually make a money point first, then talk about my personal(Christian) conviction regarding care for
the least of us, which could be almost anyone, except of course all our reps in the Houses. I haven't heard a word about all the new blood in
the House and Senate declining the coverage on grounds of personal conviction, either. They just ask for disaster relief, unaware that they
voted it away.
8. sean says:
March 23, 2012 at 6:05 pm
Something I never hear discussed: if a corporation or individual writes off health insurance premiums on their taxes, doesn't that mean the
federal government is paying for virtually all health insurance? So we really have a single payer finance system for healthcare, it is just very
indirect, disorganized, and inefficient. I don't care if the single payer system includes insurance companies, but those insurance companies
need to provide coverage from cradle to grave — they cannot take profits and when someone becomes 65 let the federal government assume
healthcare risk directly.
9. Asher Cohen says:
March 27, 2012 at 10:48 am
Obama did not advocate for a single payer system. He barely advocated for a public option. The reason being, in my perception, that the
health insurance industry owns him. Otherwise we would have a debate on whether a single payer system is the right approach an make a
determination based on rationality.
10. Carolyn Heinz says:
April 5, 2012 at 9:56 am
"by the time today's kindergartners are Medicare eligible, a single payer style payment mechanism for American health care would have
eliminated the federal deficit". Does Dr. Jarvis not mean the federal debt??? If our medical costs were the same as the other counties with a
single payer program we could eliminate the deficit THIS year and federal, state and local debt (unfunded mandates for health care) in the
years to come.
11. Mike says:
January 4, 2014 at 3:43 am
A single payer system would never have passed because the health insurance and pharmaceutical lobbies would never have allowed it.
12. Mike says:
January 4, 2014 at 3:49 am
All members of congress should give up their government funded health care and shop for coverage in the market place. Maybe then they
would have some perspective on health insurance industry abuses.
Healthcare-NOW! | 9A Hamilton Place, Boston, MA 02108 | info@healthcare-now.org | 215-732-2131