Adios, Private Insurers? Assembly Votes for Single Payer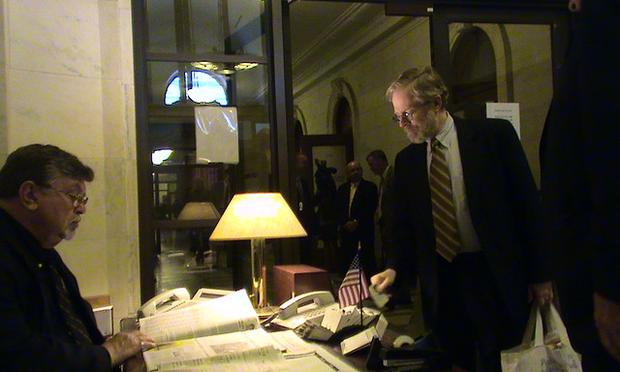 Assemblyman Dick Gottfried, from Manhattan's Upper West Side, has been pushing for single-payer healthcare for decades. (Azi Paybarah / wnyc)
The New York Assembly wants to cut out the middle man.
A bill that passed 89-47 would essentially eliminate insurance companies and cover all New Yorkers' healthcare needs through a so-called single payer system.
An identical bill hasn't advanced in the state Senate, so the measure is not likely become law any time soon.
Doctors and hospitals wouldn't have to take the new coverage. But under the proposed law, they couldn't take private insurance, either — so it would be cash or nothing.
With no patient premiums, deductibles or co-payments for hospital and doctor visits, testing, drugs or other care, New York Health would pay providers through collectively negotiated rates.
The New York Health Plan would be funded through a progressive payroll tax paid 80 percent by employers and 20 percent by employees. Bill Author Richard Gottfried said the payroll taxes would be less than current ones, and property taxes would go down, too, because counties currently pay a large share of Medicaid costs, and the state would no longer need Medicaid.
Gottfried predicts the bill would save New Yorkers more than $45 billion annually, and he says waivers would be sought so federal funds now received for New Yorkers in Medicare, Medicaid and Child Health Plus would apply.
"It is astonishing how much money we will be able to save by taking insurance companies out of the picture, negotiating with manufacturers of drugs and devices, and improving the policing of fraud and waste," Gottfried said.
Republicans expressed skepticism that Gottfried's plan could operate as efficiently as he said and save money.
Edward Ra, a Long Island Republican, said he's against the proposed plan because it could lead to more people defrauding the government.
"The bottom line is that we're perpetuating a system full of fraud, waste and abuse, when there are very easy measures that could combat that," Ra said.
The vote fell roughly along party lines.
Comments