Medicare's 45th Anniversary – Regional Celebrations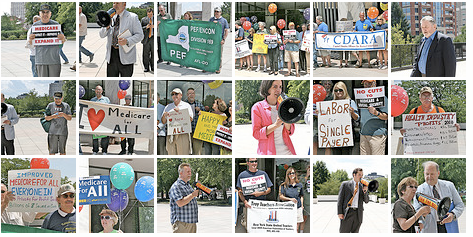 To view the full photo album click here
Click on images below for larger size:
New Paltz: Street Rally (photos courtesy of Lin Sakai):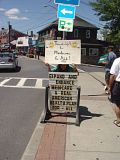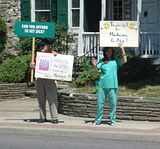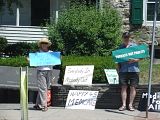 Rochester: "Defenders rally in support of Medicare, Social Security"
"Bending on one knee with a knife in her hand, Betsy Frarey sliced large chunks of a white-icing cake to celebrate the 45th birthday of the Medicare program. She hopes Congress doesn't make the same huge cuts to the health care program during their budget sessions." Full article here:
http://www.democratandchronicle.com/apps/pbcs.dll/article?AID=/201007310500/NEWS01/7310336
Ithaca: (photo courtesy of Rebecca Elgie)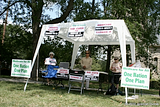 About 25 health reform activists and seniors gathered in a park in downtown
Ithaca to celebrate the 45th Anniversary of Medicare. They were joined by
Congressman Hinchey's aide, Dan Lamb, Green candidate for US Senate,
Cecile Lawrence and candidate for State senate, Pam Mackesey,
all Single Payer supporters. Dan said that Hinchey has a policy of not signing
pledges but that he will work to preserve Social Security and Medicare and that
he does continue to support Medicare for All but he is also supporting the Patient
Affordability Act. We are trying to get a written statement from him. Many
Seniors spoke about the importance of Medicare for them and the importance
of expanding and improving it to cover everyone with comprehensive health
care. It was a pleasant day in the park and cake and lemonade was enjoyed
by all. The event was videotaped and will be aired on public access locally.
Comments